WWW Space and Mystery
© Copyright 1996-2008
At this url only:
spaceandmystery.tripod.com
The views and opinions expressed
by external sites are not necessarily those of
WWW Space and Mystery.


Buy books, DVDs and other great products
now at the
"new, fully functional"
WWW Space and Mystery
Online Stores!
CANADA / U.S.A. / U.K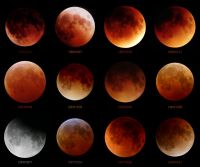 Twelve Lunar Eclipses
Credit with image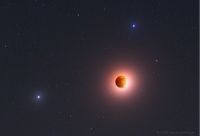 Eclipsed Moonlight
Credit with image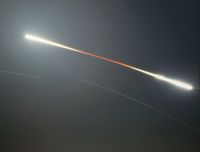 Moon Slide Slim
Credit with image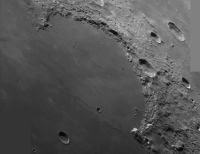 The Bay of Rainbows
Credit with image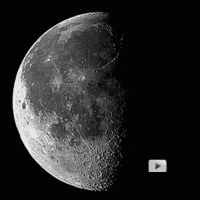 Lunation
Credit with image
04/18/08 SpaceDaily: NASA official envisions six-month stays on the moon

04/18/08 Space.com: Strange Things Happen at Full Moon

04/17/08 NASA/Science: The Moon and the Magnetotail

04/14/08 Space.com: Beauty Shot: Moon Probe Catches Full Earthrise

04/11/08 Space.com: Lunar Science Community Needs Rebuilding, Researchers Say

04/10/08 SpaceDaily: NASA Sets Sights On Lunar Dust Exploration Mission

04/10/08 NASA/Science: Moondust in the Wind

04/07/08 Space.com: Robotic Lunar Base With Legs Changes Everything

04/07/08 NASA/Science: The 2008 Great Moonbuggy Race

04/04/08 SpaceDaily: UMaine Engineering Team To Test Inflatable Habitats For NASA Moon Mission

04/03/08 Space.com: Moon Seen as Laboratory for Life

03/31/08 Astrobiology Magazine: A Vision for Exploration

03/31/08 Space.com: Japan, China To Extend Successful Lunar Missions

03/31/08 SpaceDaily: Crafty Tricks For Finding Moon Water

03/28/08 SpaceDaily: Odyssey Moon Announces Commercial Launch Services Agreement

03/26/08 Space.com: Apollo Pliers Fetch $30,000

03/20/08 SpaceDaily: NASA Awards Contracts For Design Study Of Lunar Landing Craft

03/13/08 SpaceDaily: NASA prepares for Moonbuggy Race

03/13/08 SpaceDaily: New Purdue Facility Aims To Improve NASA Moon Rocket Engine

03/13/08 SpaceDaily: Naval Research Laboratory To Design Lunar Telescope To See Into The Dark Ages

03/13/08 SpaceDaily: NASA Readies Hardware For Test Of Astronaut Escape System

03/12/08 Space.com: NASA's Chariot: Not Your Father's Lunar Rover

03/12/08 SpaceDaily: NASA Ames Selected For Return To Moon Team

03/12/08 SpaceDaily: China's Recoverable Moon Rover Expected In 2017

03/03/08 SpaceDaily: NASA Collaborates With Astronomers In Search For Moon Water

03/03/08 SpaceDaily: Preparation For The Next Lunar Landing Leaps Across The Generation Gap

02/29/08 Space.com: MoonLITE Project To Have 'Mole' Penetrators

02/28/08 SpaceFlight Now: Landing site viewed through eyes of future moon crew

02/27/08 SpaceDaily: NASA shows off a moon robot

02/27/08 Space.com: NASA Takes Aim at Moon with Double Sledgehammer

02/26/08 SpaceDaily: India's Moon Mission Pushed To July First Week

02/22/08 SpaceDaily: China to launch second lunar probe in 2009: report

02/21/08 Space.com: Private Race to the Moon Takes Off

02/20/08 NASA/Science: Who's Orbiting the Moon?

02/16/08 Space.com: Joint British-U.S. Team Propose Unmanned Moon Mission

02/14/08 SpaceDaily: Total Lunar Eclipse Next Wednesday

02/14/08 Space.com: Chasing Shadows

02/15/08 SpaceDaily: India's Moon Mission Likely To Be Put Off To June

02/12/08 Space.com: How Lunar Landers Sandblasted the Moon

02/08/08 Space.com: How a Lunar Eclipse Saved Columbus

01/31/08 SpaceDaily: NASA Issues Environmental Impact Statement For Constellation

01/23/08 SpaceDaily: Volcanic deposits may aid lunar outposts

01/18/08 SpaceDaily: Amateur Radio Operators Asked To Tune Into Lunar Radar Bounce

01/18/08 Space.com: Full Moon Names for 2008

01/18/08 SpaceFlight Now: Moon Stuck: Space leaders work to replace lunar base with manned asteroid missions

01/17/08 SpaceDaily: With Moon Dirt In Demand, Geoscientist's Business Is Booming







Lunar Reconnaissance Orbiter (LRO)
Launch: Late 2008
"The Lunar Reconnaissance Orbiter will conduct investigations that will prepare for and support future human exploration of the moon".


12/12/07 Space.com: NASA's Lunar Orbiter Mission Could Slip
10/10/07 SpaceDaily: NASA Spacecraft To Carry Russian Science Instruments



ESA's SMART-1 Moon Mission
Launch: September 27, 2003


08/31/07 ESA Science: SMART-1: Europe on the Moon, one year on
08/23/07 ESA Science: SMART-1 diagnoses wrinkles and excess weight on the Moon




Moon Conspiracy?

· The Great Moon Hoax
· The Faked Apollo Landings
· Men on the Moon as a Matter of Fact

04/09/07 Space.com: What Hoax? US Museum Aims to Set Record Straight Over Moon Landing
12/21/02 Space.com: Hoaxers vs. Rocket Scientists: Even NASA Unsure How to Counter Claims of Faked Moon
Missions
11/11/02 BBC: One giant hoax for mankind
11/08/02 BBC: Nasa pulls Moon hoax book
11/07/02 BBC: Nasa challenges Moon hoaxers
02/23/01 NASA Science: The Great Moon Hoax: Moon rocks and common sense prove Apollo astronauts really did visit the Moon



Lunar Prospector Mission
Jan. 1998 - July 1999


10/13/99 NASA/Science: Moon Water Still a Mystery: The crash of Lunar Prospector into the Moon did not liberate detectable signatures of water ice

07/31/99 NASA/Science: Farewell, Lunar Prospector: NASA's lunar orbiter crashed into the Moon Saturday, July 31, 1999, precisely striking its intended target.

03/05/98 NASA: Lunar Prospector finds evidence of ice at Moon's poles




Apollo 17: Shorty Crater Panorama
Credit with image




The Decision to Go to the Moon:
President John F. Kennedy's May 25, 1961
Speech before a Joint Session of Congress


03/26/08 Space.com: Apollo Pliers Fetch $30,000
08/22/07 UFO Digest: THE APOLLO 20 CASE: DEBUNKING OR A TROJAN HORSE FOR THE TRUTH?
06/27/07 UFO Digest: NEW EVIDENCE PROVIDED BY WILLIAM RUTLEDGE, CDR OF THE APOLLO 20 CREW - New and baffling video footage on YouTube provided by W. Rutledge seem to corroborate his amazing story
05/29/07 UFO Digest: AN ALIEN SPACESHIP ON THE MOON: INTERVIEW WITH WILLIAM RUTLEDGE, MEMBER OF THE APOLLO 20 CREW
11/14/06 UFO Digest: Treasure of the Abyss: Morningstar Discovers Luminous "Sky Object" Above Lunar Surface In Apollo 16 Photograph
11/07/06 UFO Digest: Treasure of the Abyss: Morningstar Discovers Luminous "Sky Object" Above Lunar Surface In Apollo 16 Photograph
11/06/06 NASA Science: Bizarre Lunar Orbits
11/03/06 Space.com: Apollo TV Tapes: The Search Continues
08/16/06 SpaceDaily: Historical First Lunar Video Disappear In Earth Bound Bureaucracy
08/16/06 SpaceDaily: NASA Provides Further Update On Apollo 11 Tapes
08/13/06 Space.com: Tale of the TV Tapes: Apollo 11 Mission Archive Mystery Unspools
05/11/06 Space.com: Talk with Moon Men
01/30/06 NASA Science: The Smell of Moondust: This is the third installment of Science@NASA's Apollo Chronicles
01/18/06 SpaceDaily: Apollo Chronicles: Skiing On The
Moon
01/03/06 NASA Science: Apollo Chronicles
07/17/05 SpaceFlight Now: Apollo 11 video directory
05/12/05 Space.com: Apollo 17 Commander Receives NASA's First Moon Rock Award
11/22/04 SpaceDaily: Apollo 12 Remembered - Lunar Germ Colony Or Lab Anomaly?
11/05/04 Unknown Country: Apollo 15 Image Mystery
07/21/04 NASA Science: What Neil & Buzz Left on the Moon: A cutting-edge science experiment left behind in the Sea of Tranquility by Apollo 11 astronauts is still running today
07/16/04 National Geographic: Apollo Anniversary: Moon Landing "Inspired World"
07/05/04 SpaceDaily: Apollo's Lunar Leftovers
04/22/04 Farshores: Apollo 16's Lunar UFO video identified
12/08/02 SpaceDaily: Apollo 17: The last manned lunar landing
09/20/02 NASA Science: Mystery Object Orbits Earth: puzzling object just discovered in orbit around Earth might be an Apollo rocket on a fantastic journey through the solar system.